DIFFA: the Creative Community Funding the Fight against HIV/AIDS
How are they faring during COVID-19?
Quietly feeding a love affair with interior design, I have over the years anticipated and looked forward to my European friends' visits with attendance to the DIFFA: Design Industries Foundation Fighting AIDS' annual gala on their "must attend" New York City itinerary. The event never disappointed. Its meticulously curated dining environments were ALWAYS a feast for the eyes. One year, a presentation particularly stood out: a perfect assortment of artisanal cheese boards accessorized with mouth-watering pairings, displayed on wood panel trays on an antique Volkswagen Bug. This prompted whispers among our group about whether we should partake in tastings from the display. We decided to watch and take cues from other attendees. No one touched the presentation. As the evening progressed, we circled the event to appreciate the other sublimely displayed presentations, but would always return to the perfect cheese display, still untouched. The temptation was finally too much. "Why would they put this out unless it was meant for tasting?" All agreed and pounced. A wine tray miraculously appeared. Perfection!
What a beautiful and attention-grabbing event to help address such serious health and social woes. "Since 1984 DIFFA (Design Industries Foundation Fighting AIDS) has raised awareness and provided funds to organizations that provide treatment, direct care services, preventive education programs and advocacy for individuals impacted by HIV/AIDS. To date, DIFFA has mobilized the resources and creative canvas of the design community to grant more than $46 million to fight AIDS nationwide – making it one of the largest funders of HIV/AIDS services and education programs."
Kudos to my friend Carlos Maldonado, who partnered with Walker Ridge in 2019 to curate a booth at DIFFA's fundraising event to focus attention on the organization's work using a display centered on Puerto Rico's environmental challenges. This led to an introduction and my subsequent conversation with DIFFA's Executive Director Dawn Roberson. I wanted to learn more about DIFFA and the face behind the organization that used beauty in design to grapple with HIV/AIDS and homelessness. I was not disappointed. It turns out Dawn Roberson had been DIFFA's National Events Director since 2013. In a press release announcing her appointment as Executive Director in 2018, the organization's Board Chair cited Roberson's "boundless energy, passion and knowledge" in leading DIFFA's charge against HIV/AIDS and homelessness. Her efforts and contributions are credited for DIFFAS's growth "in both measurable and immeasurable ways."
A pleasurable knowledge-filled talk ensued. Roberson was exceptionally gracious with her time and I felt like we could've conversed all day. She schooled me on some of the issues that DIFFA continues to address, and the fundraising challenges, especially in this time of a global pandemic, as we sit front row to the challenges of managing the health of the world now fully on display.
I understood very well what some of Roberson's fundraising challenges would look like, especially in light of the economic hemorrhaging brought on by the pandemic. I approached Ms. Roberson with more questions on how to do my part in helping to steer additional attention to DIFFA's ongoing work, its goals and its fundraising activities for this worthy cause deserving of profound admiration. I found her answers deeply sobering.
Q. I would imagine in this time of a global pandemic, fundraising becomes a challenge. If I may ask, how is DIFFA faring?
A. With the loss of our major annual fundraising events in the spring and the fall, DIFFA has had to get very creative in adjusting our fundraising initiatives. As such, we are proud to announce DIFFA's first-ever Online Auction; visit us at https://e.givesmart.com/events/ioO/. As a means of drawing attention to the online event and in keeping up with our reputation for fabulous events, DIFFA has planned a launch party complete with drag performers, trivia games and testimonials from recent grantees regarding DIFFA's support for their programming over the years!
DIFFA has unique and highly-coveted designer items up for grabs in the DIFFA By Design (DBD) Auction. "An assortment of home furnishings and high-end home décor from leading names like Herman Miller, DDC, Studio TK, B&B Italia, and artwork from William Engel, Sarah Von Dreele and Rebecca Moses," which the organization hopes will "bring in some much-needed revenue."
Q. I have to proclaim ignorance. I did not know HIV/AIDS were still this prevalent. Can you provide some data about where we stand on infections?
A. Approximately 1.2 million people in the U.S. are living with HIV today. About 14 percent of them (1 in 7) don't know it and need testing. HIV continues to have a disproportionate impact on specific populations, particularly racial and ethnic minorities and gay and bisexual men.
An estimated 36,400 new HIV infections occurred in the United States in 2018, the latest year for which we have this statistic. But some other more recent statistics include:
· 25.4 million people accessed antiretroviral therapy in 2019
· 38.0 million people globally were living with HIV in 2019
· 690, 000 people died from AIDS-related illnesses in 2019
· 32.7 million people have died from AIDS-related illnesses since the start of the epidemic
Q. I remember at the height of the AIDS crisis, infections meant a short, cruel existence and swift death. Has the situation improved today?
A. With the drug regimens available today, AIDS no longer needs to be a death sentence. However, not everyone has access to these drugs, and they have side effects – many of the organizations DIFFA supports provide access to health care and treatment to those who cannot afford it. We have yet to fully understand the drugs' long-term impact because the aging population with the disease is only now entering their twilight years. We're seeing indications of possible early-onset dementia and other ailments as a result of taking these drugs over time.
These smaller events are dwarfed in comparison to our past well-known design events. Still, they allow us to fund some organizations working on the front lines amid the pandemic. DIFFA and its chapters have issued over $300,000 to organizations around the country fighting on the front lines and working through COVID-19. They serve many of the at-risk populations for HIV/AIDS – in the very same communities which have been disproportionately affected by COVID-19.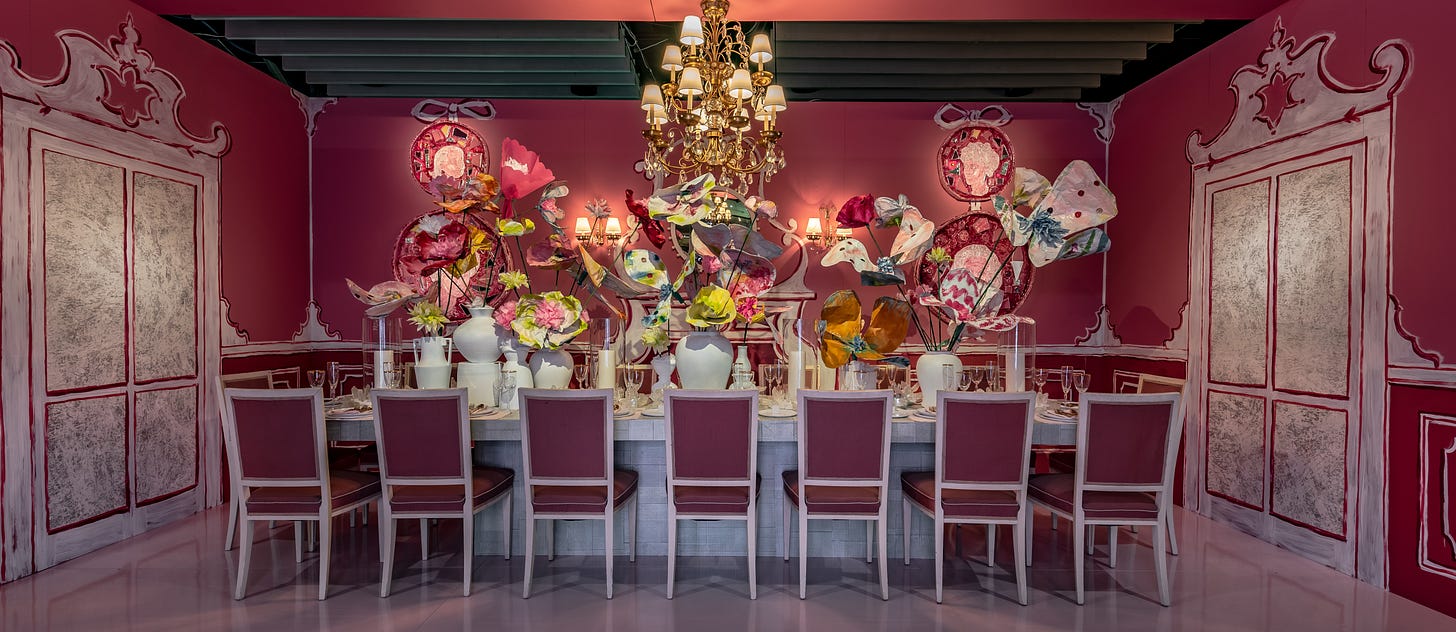 Q. What are some of the contemporary issues society faces with HIV/ AIDS today?
A. In the United States, where DIFFA's work is focused, access to health care, particularly in rural areas of the country, is scant, and many cannot get the tests and treatment they need. Furthermore, stigma against the disease and its perception as a "gay disease" persists.
Q. What are some of your goals for the organization?
A. Without our primary fundraising vehicle, we hope to continue to support the organizations who need our assistance the most. To be able to grant more funds each year to the organizations that need our help. We hope to see the number of infections going down among those in the inner cities and LGBTQ+ youth, and the homeless and other at-risk populations.
Q. Your Dining for DIFFA Design Challenge was a fun initiative where participants shared their creativity and design inspirations by posting their own dining experiences at home. Can we expect more like this?
A. Yes, we will be doing more of these fun design initiatives. However, our focus is on creating events that generate donations because that's the lifeblood of our grant-making operations. Without funds, we cannot help those we exist to help.
Q. What do you want people to know about DIFFA?
A. For over 35 years, DIFFA has supported organizations that provide care, education and advocacy for individuals impacted by HIV/AIDS, and societal plights that directly affect new HIV/AIDS infections such as homelessness and substance abuse.
DIFFA independently raises ALL of the funds we grant to support nonprofits and service organizations. We are one of the few HIV/AIDS organizations that give unrestricted funds to service agencies in our community, providing necessities like utilities, transportation, hot meals and buddy programs to those in need.
AIDS is far from over, and with the current pandemic raging, our grantees need our help more than ever.
***
All images are compliments of DIFFA:
2019 Dining by Design concept by Gensler + Knoll + EversonBest in conjunction with Miller Blaker

Dawn Roberson, Executive Director, DIFFA

DIFFA 2020 Dining By Design Auction

Benjamin Moore - DIFFA 2019

Interior Design